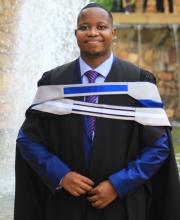 Some of our H3Africa Fellows were part of the Graduation ceremonies that took place at the University of the Witwatersrand in July 2022.
Congratulations to Blessing Rotondwa Sitabule who graduated with an MSc in Human Genetics. He was supervised by Dr Houcemeddine Othman and Prof Scott Hazelhurst. His research was entitled "Structural Bioinformatics Analysis of CYP2D6 pharmacogenetic variation relevant to sub-Saharan African populations". The research was based at the Sydney Brenner Institute for Molecular Bioscience (SBIMB) and it was nested within the Wits-HAfrica/GSK ADME project, with Prof Scott Hazelhurst as the PI of the main project.
Blessing is now a Ph.D. student at the University of the Witwatersrand and his current project will be focused on assessing the impact of genetic variants on proteins involved in antimalaria and anti-TB drug response.